8 May 2016 SKCC2 Kristianstad
And the summer was here! Finally it was shorts weather from dusk to dawn!
This track is the absolute best in Sweden and the venue for World champion ship 2016 later this year! 
But unfortunately I had to work the end of the week when the others were there training so we got to the track on Saturday to watch and cheer the Mini and KZ2 classes and meet some friends. 
The first & second practice started pretty well with a 16th place (Of 35) which we thought was ok with worn tires and no practice; this is the largest championship in Sweden with the best drivers.
New tires for the qualifying and small adjustments, but not quicker, down to 20th place for the heats but 0, 9 seconds of pole, that's how close this is! 
For the two heats she was 21th and 19th, she drove really good and the kart looked better and better but it's hard to fight mid-pack, 17th position for the pre-final but she ended up 18th after a small contact in the last corner and that was the position for the final. 
Good start but its crowded down here in the middle.. Again great driving but it was hard to pass and the leading group checked out, she ended up 16th over the line but after some time penalties were given she was 15th which at least gave a small trophy! 
At the end of the day we were happy and we tried a lot of things and in the SKCC standings she's 9th total, great work and we're looking forward to what the future for us will give! Thanks for all the support to all of our friends worldwide!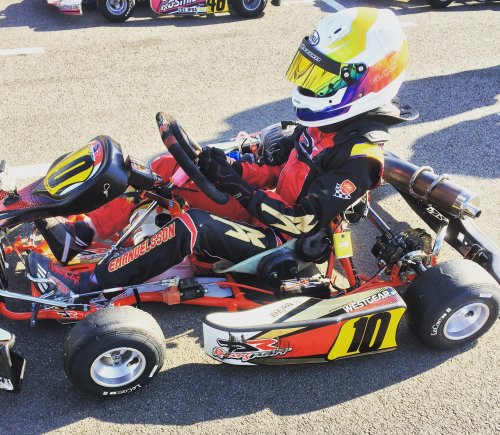 ---
Other posts