Latest updates!!
October 29th 2016 Team13
The sun was shining on the last day of practice for this year here in Sweden!
We had the SKUSA Supernationas XX settings on our Benik to try everything out! 
The MGs are working great and she was really fast! This is going to be RAD!
October 24th 2016

23 Days to go!!
October 8th KCV5 2016 Uddevalla
We had this race more as a practice but the weather wasn't with us and it was raining all day!
Hard race and good results but Clara was unfortunate to spin off in the final, after that she was fastest on track for a few laps and brought the kart back in to secure 6th in the championship that she only attended three out of five races!
September 24th 2016 Lördaxx4 Team13 Gothenburg
A wonderful day with the fastest times ever, lap records and close hard racing!
First practice was a test on used tires and some settings and within an hour it was time for qualifying.
There were only 10 racers in the junior 60 class, but the 7 first was within 0.4 of a second! Clara was 6th 0.28 from pole, that was the closest qualifying ever here from what I can remember. 
In the first heat they were six swopping places for the lead and all of them did their best times within 0.1 sec! 
All with better lap times posted during Tom Trana Trophy and Göteborgs stora pris, that was tight!
Clara reached the checkers in 5th place 0.7 from the winner.
In the 2nd heat she had harder fights but almost as low lap times, she ended up 6th.
For the final she should start at one of the worst spots on this track 6th, but we didn't get the kart running so she was late out on to the track but they was kind enough to hold the start for a lap but she took the place at the back of the grid and dead last.. But what a start! She was 4th at the 2nd corner! 
Hard fighting all the way and she was 3d for a long time but lost out at the end for 4th over the line, still a great race with great competition!
At the end of the day she was crowned 2nd in Lördaxx championship!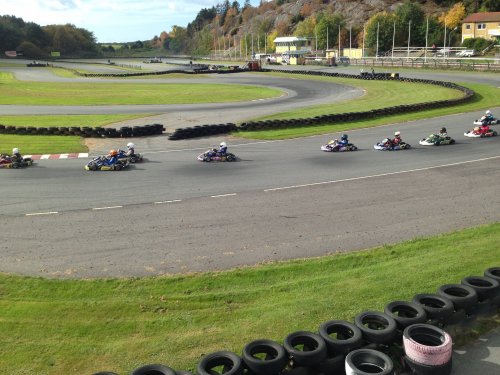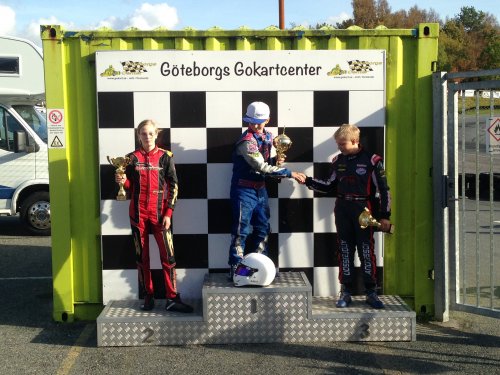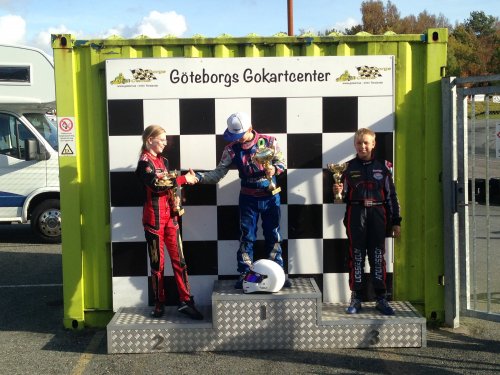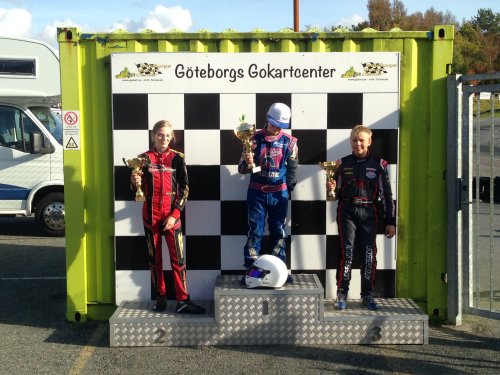 ---
Other posts