Race blog 2016
2017 
The photos from Las Vegas is now updated and can be found here: http://www.clara10.com/photos
Full race report will be posted soon and also all the news!
Gothenburg December 7th
Pictures are fresh in from On track promotions so the updates will begin very soon!
Visit: On track promotions for great shots from all SKUSA Races! 
Las Vegas, Nevada, USA, SKUSA #Supernats20, November 16-20 
You have to listen to this live cast from eKarting news during LCQ, starting at 22.20: eKarting news Live form LCQ
Some videos to start with:
Mini Swift Heat 1 AvsD Pt1 2016 
SKUSA Supernats 20 Mini Swift Heat 1 AvsD Pt2
SKUSA Supernats 20Mini Swift Heat 2 AvsC
SKUSA Supernats 20Mini Swift Heat 3 AvsB
SKUSA Supernats 20Mini Swift Heat 4 LCQ
Las Vegas 2016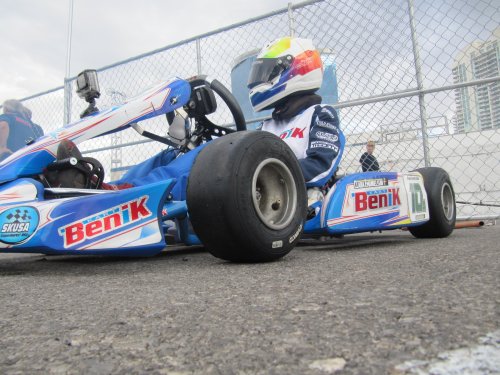 November 12th Las Vegas, USA
Let's get that revenge i Vegas this year!
The biggest race in the world! The 88 Best drivers in the world from 20 nations!
Bring it on!! Super sunday november 20th
The race is on! SKUSA Supernationals XX Las Vegas, USA 2016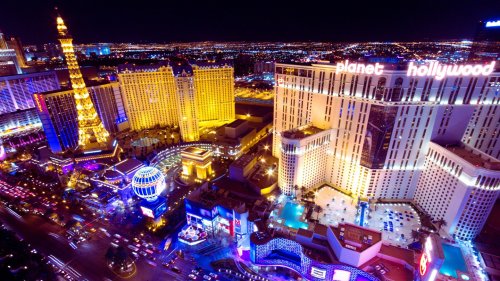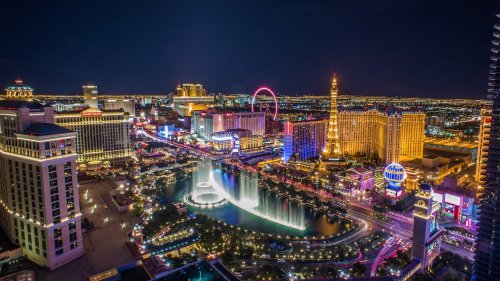 November 11th
Time to go to Vegas! 5 days until 1st practice on the track! 
Find the entry list and more info here:
http://ekartingnews.com/2016/11/06/ekn-exclusive-superkarts-usa-supernationals-20-preview-series-mini-swift/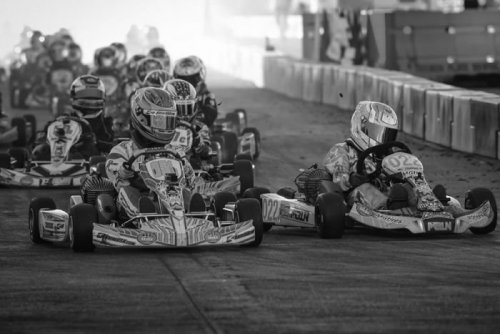 October 29th 2016 Team13
The sun was shining on the last day of practice for this year here in Sweden!
We had the SKUSA Supernationas XX settings on our Benik to try everything out! 
The MGs are working great and she was really fast! This is going to be RAD!
October 24th 2016

23 Days to go!!
October 8th KCV5 2016 Uddevalla
We had this race more as a practice but the weather wasn't with us and it was raining all day!
Hard race and good results but Clara was unfortunate to spin off in the final, after that she was fastest on track for a few laps and brought the kart back in to secure 6th in the championship that she only attended three out of five races!
September 24th 2016 Lördaxx4 Team13 Gothenburg
A wonderful day with the fastest times ever, lap records and close hard racing!
First practice was a test on used tires and some settings and within an hour it was time for qualifying.
There were only 10 racers in the junior 60 class, but the 7 first was within 0.4 of a second! Clara was 6th 0.28 from pole, that was the closest qualifying ever here from what I can remember. 
In the first heat they were six swopping places for the lead and all of them did their best times within 0.1 sec! 
All with better lap times posted during Tom Trana Trophy and Göteborgs stora pris, that was tight!
Clara reached the checkers in 5th place 0.7 from the winner.
In the 2nd heat she had harder fights but almost as low lap times, she ended up 6th.
For the final she should start at one of the worst spots on this track 6th, but we didn't get the kart running so she was late out on to the track but they was kind enough to hold the start for a lap but she took the place at the back of the grid and dead last.. But what a start! She was 4th at the 2nd corner! 
Hard fighting all the way and she was 3d for a long time but lost out at the end for 4th over the line, still a great race with great competition!
At the end of the day she was crowned 2nd in Lördaxx championship!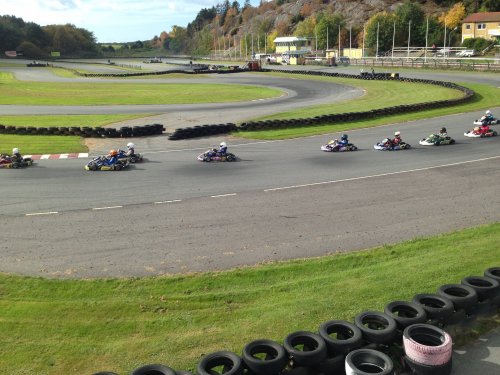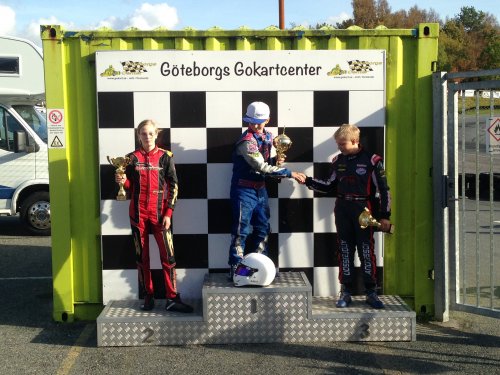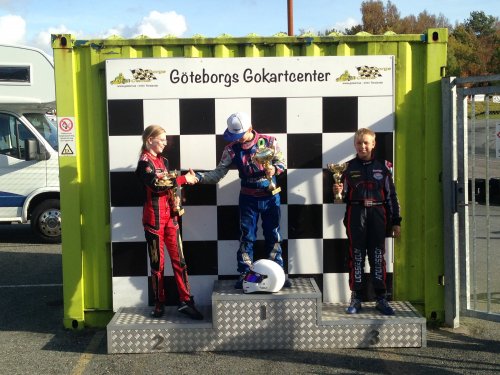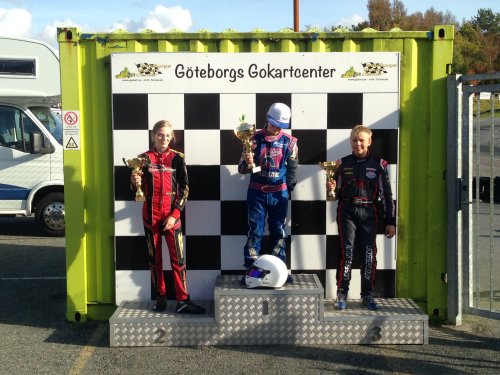 September 10th 2016 Lördaxx3 Team13 Gothenburg
A great day in the west coast sun, we arrived perfect for registration and drivers meet in the early morning but the sun was up and warm, it's going to be a great day for racing!
1st practice on used tires and Clara was 4th 0.4 off but in good shape, the 2nd practice is also qualifying on these smaller events so we put new tires on (Or close to new, we run them for 7 laps at GSP) and she was 0.4 faster but the rest was too, she was 5th and the engine didn't run clean, so a bit of work.
1st heat was good and she was 4th with lap times within 0.3 from the fastest but the engine didn't rev like we like it to so we changed carburetor for heat 2. 
That didn't sort the problem but she was 4th again and that will also be the starting position for the final. 
We put the first carburetor together again and some adjustments as the weather was warmer together with another gearing. 
What a final it turned out to be, close racing from the top 5 and at a point eight drivers! Clara was battling for the top and was 2nd for a moment while she fought for the lead with a lot of great passing's and smart driving; she ended up 4th with the top 5 within 1.6 seconds over the finish line! 
She really wanted to win but this was a great day of great racing!
On-board video from Clara #10
 Heat 1
Heat 2
Final
Start of final from the sideline
September 8th 
70 days to go! Watch out!!
August 28th Team13 Gothenburg GSP (Gothenburgs big trophy) Göteborgs Stora Pris
What a contrast in weather it was this morning compared with yesterday when I was there watching the J125 and KZ class! Saturday was really hot and sunny all day, today it was very cold and rainy, but it is the same for everybody!
We started on a damp track (But no rain) on rain tires and Clara was 6th out of the 33 driver line-up, on the second practice we did only small adjustments as the weather didn't change and she was 5th and 0,3 off so we know she had the speed and she's always super smooth on the slippery track! 
But for the qualifying practice the sun suddenly showed up and dried the track immediately, dry settings and new slicks was mounted. She was in the second group so we had plenty of time. She was 5th in that group but the first group was way faster due to conditions so they made the decision to cross groups so instead of starting 15th in the heats she was 10th, that's nice (And fair) 
For the first heat it looked like we should have a dry track but when we were at the grid it got dark fast! Everything went from bad to worse when the heaven opened up! We got a few extra minutes to change tires because of the safety risk but we only changed tires and not gearing as we thought we didn't have time so we know the settings wasn't the best but what a great performance she showed and ended up sixth!
For the second heat of the day there wasn't anything to think of as it was pouring down now! There was so much water on the track that we had to wait for an hour and more to get a green flag. Still raining a lot and she couldn't see much but great driving again, super smooth and fast but no mistakes at all, she was 8th when the checkered flag was dropped but she had hit the front bumper at the start and got a 10 sec penalty to 16th place so instead of starting 5th in the final she was demoted to 9th. It is a great effort in this group of drivers. 
Time for finals, still really wet and cold so no changes to the kart but tire pressure. 
A pretty good start but she was in a group that was fighting for positions in every corner, she lost a few position and was at one point down to 11th but when she passed them clean she got a few kart length straight away and started to close the gap to the next group but it was a short race so she only had time to climb her way up to 8th, great result! 
There was a few protests on the guys at the front so we wasn't sure until the ceremonies about the final results and it was delayed two more hours but the result stands. 
We are really proud of Clara's performance and race craft, it was a great weekend!
More photos here: GSP 2016 Photos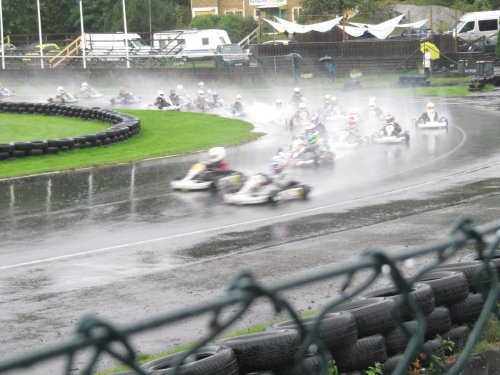 25 August Team13 Gothenburg
A few more laps to try a few things, everything went well but I found a few things when I took the kart a part later, like we had a Toe-in! And not a small one it was almost 10mm at both sides! This was due to a loose steering wheel, that together with a wrongly set-up carburetor and used tires, but she was still up there close to the front from what I could see so it's all going to be way better this Sunday!
23 August Team13 Gothenburg
Another great day of practice!
We tried a few carburators and settings with good results including a few 47s and a new PB! That was on well used tires so we're getting closer and closer! Looking forward to GSP! 
11 August Team13 Göteborg
Our home track was finally open for practice again!
We did some testing with the Benik and TM engine for the first time here and it only took a few laps to get to 1/10th of a second from Claras personal best with well used tires! With correct gearing and jettings (That I didnt bring today) and better tires, that PB will be easy to break!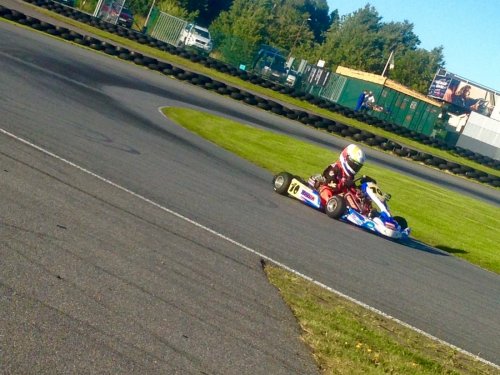 6-7 August Prince Carl Philips racing trophy (Lidköping Open)
One of the biggest races in Sweden with the Swedish Prince as a contender and spectator!
Back with almost the same guys as at the Swedish championship again! 
Qualified 7th in her group but after a decision that the track was so much better in the first group they decided to do a 1-1, 2-2, 3-3 and so on between the two groups she was 14th total. A 17th and 12th in the heats.
Clara was 12th over the finish line but should have been 8th after a lot of disqualifiers but her bumper was gone after a guy drove right over her and that gave HER a 10 sec penalty and a 16th place.. A long way to go in the final but there was a lot of karts crashing at the start and she found the perfect line up to 7th for a while but lost down to 10th over the line, still a good result after all bad luck we had this race and all year!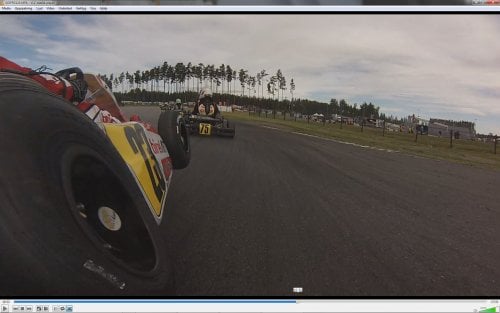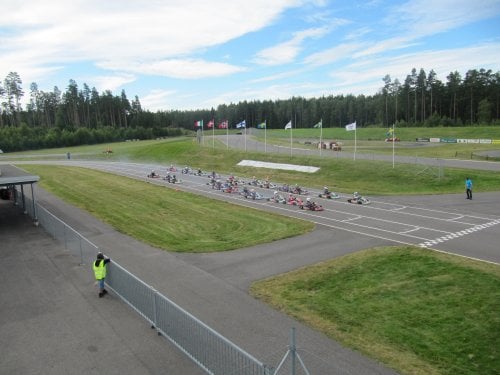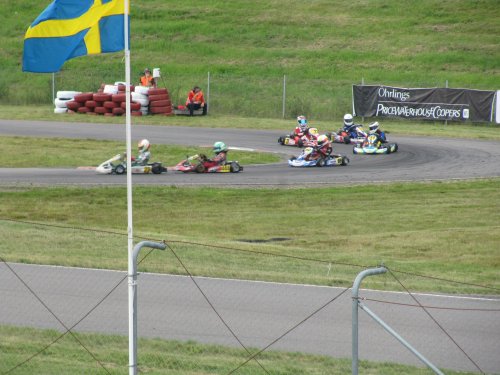 30 July SKCC5 Klippan 
Another weekend with bad luck, but we got the package and the driver so we'll be back next weekend fighting! 
This time we had the speed but everything else that could go wrong did.. At qualifying we were .5 of but in 15th, that's how tight this is at a 50 sec track!
In heat one she was on the charge at around 10-11th when the brake failed and she went off at really high speed to DNF, 2nd heat she was 12th but a 21th start position is not easy in the pre-final, she managed to get up to 14th but in the final she passed drivers all over the track but it was to slippery after the rain of line so she lost the rear and ended up on another kart from around 10th, she had to do the work again from 24th but it was no time left..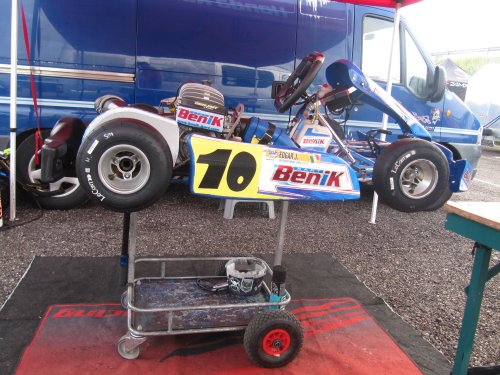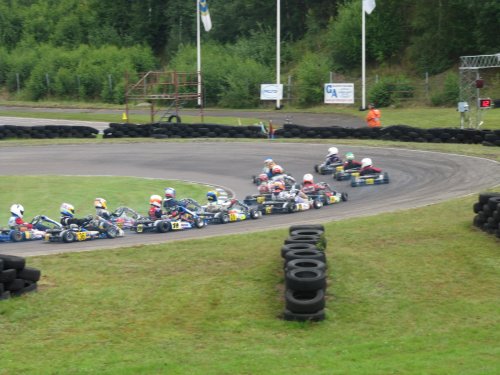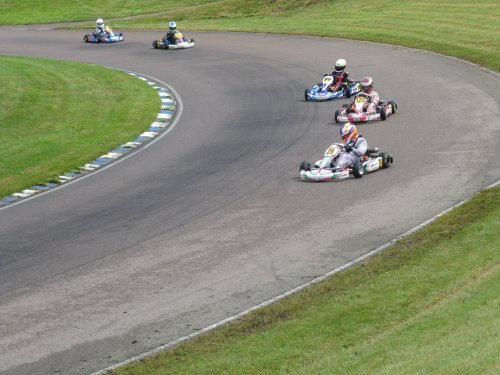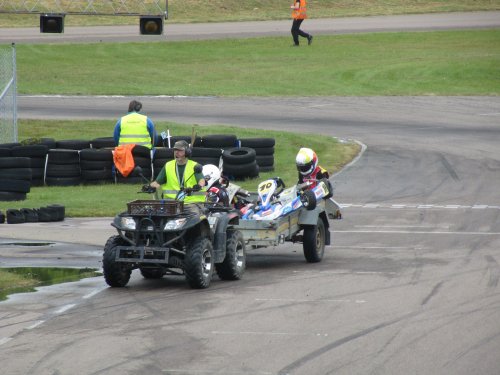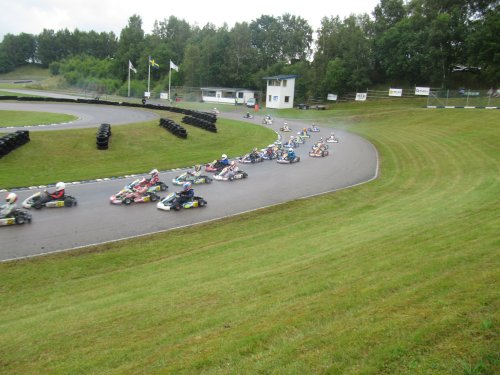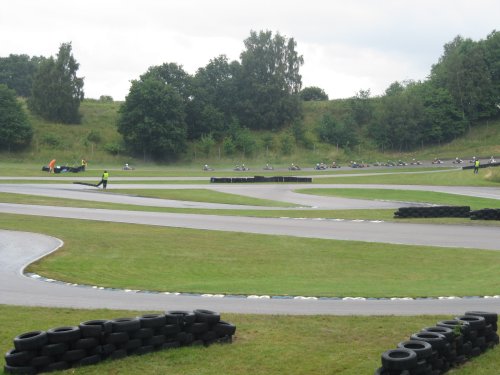 5-10 July SM Kristianstad
Nice vacation but the worst race ever with an engine that just didn't run, well off the pace even if Clara tried and worked hard, nothing to do when people passes like they had twice the power at all places..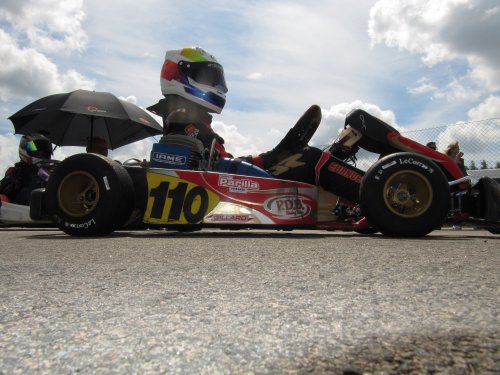 More pictures here: http://www.clara10.com/photos  
19 June 2016 SKCC4 Helsingborg
Nothing to report, not the best day. 
18 June 2016 Lördaxx2
Rain racing princess! Race report: Winner!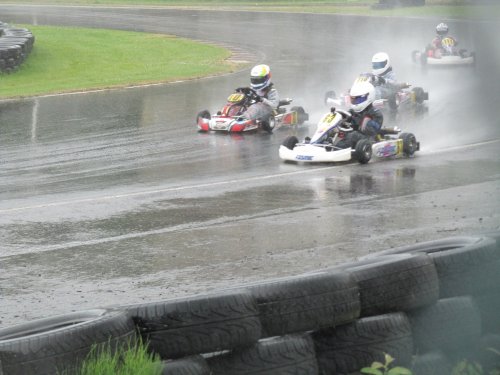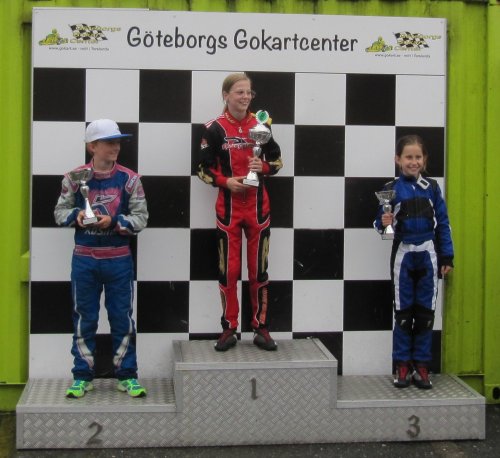 4 June 2016 Uddevalla SKCC 3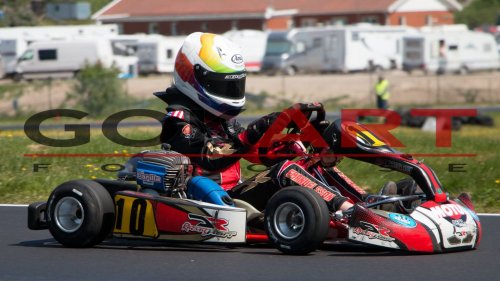 2 June 2016 Partille Tidning
Today there was an article about Clara in the local newpaper #Partilletidning
Read all about it here: http://www.partilletidning.se/2016/06/clara-ar-47-sekunders-tjejen/ 
Thanks Leif for the great pictures and great article!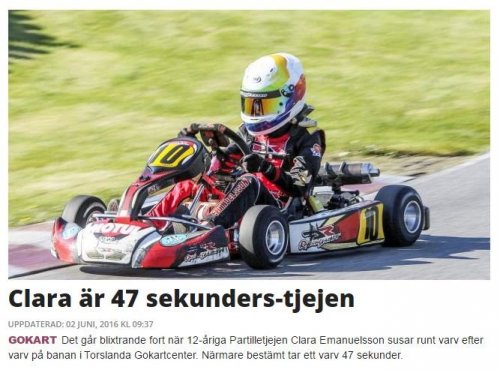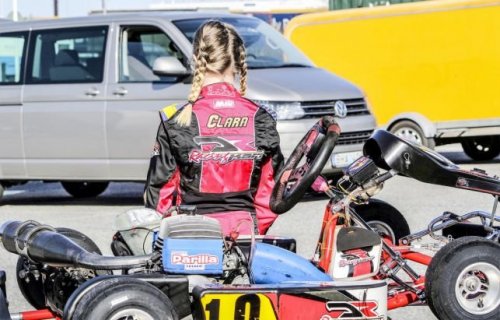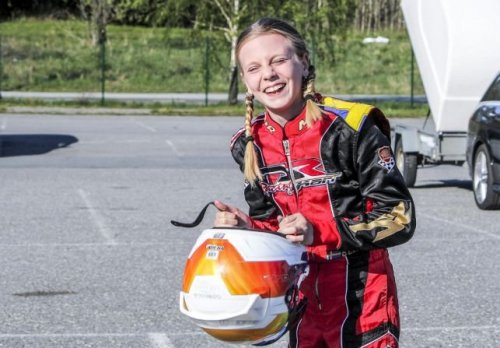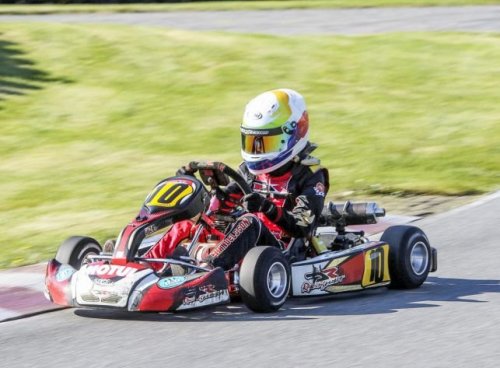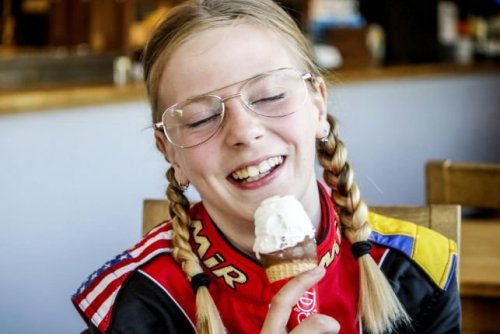 21 May 2016 Lördaxx1 Team13
Time for the first "club race" of the season in cold weather
The track was a bit slippery in the cold but got better for every session.
Clara started first free practice 5th only .3 off and it looked good, for the second outing we tried new rims and she was .5 faster but still 5th so we tried more things for the qualifying and new tires. She was a bit faster but down in 6th and still .5 off the leaders. It's really close in this group!
In the first heat she was even quicker but 5th over the line and we couldn't close that 0.5 sec gap per lap. 
We tried more things for the 2nd heat but same result and 6th place, which were also the position for the final. 
Good start and a few really good laps but after lap six she lost a lot of speed, it looked like she lost power but she told us after the race that it was too grippy and she couldn't get the speed out of the turns which was even worse as I choose a smaller gearing to get more speed.
She was 6th over the finishing line and we're happy about that, she drove great as always and we learned a lot!
Pictures later.. 
15 May 2016 Lidköping Practice
It was a cold day of practice but we tried a few things and updated us on this great track! 
It was a bit wet at the beginning but got better, no record times but we were there to have some fun and that we had!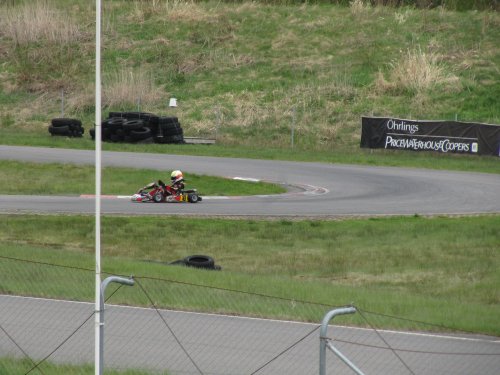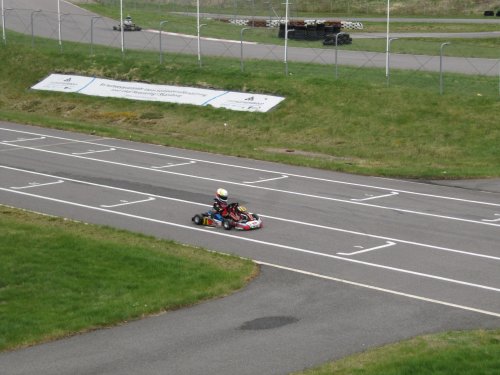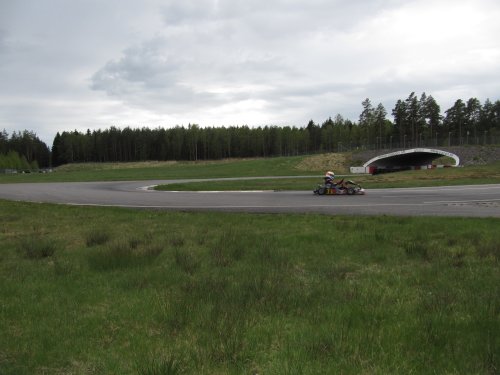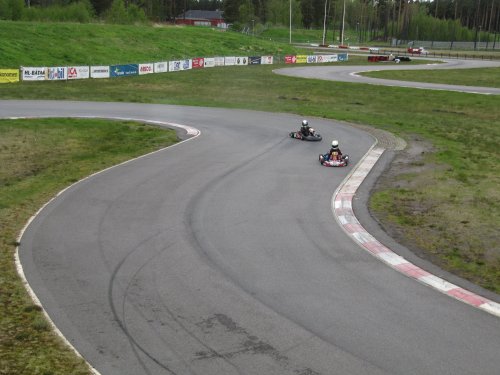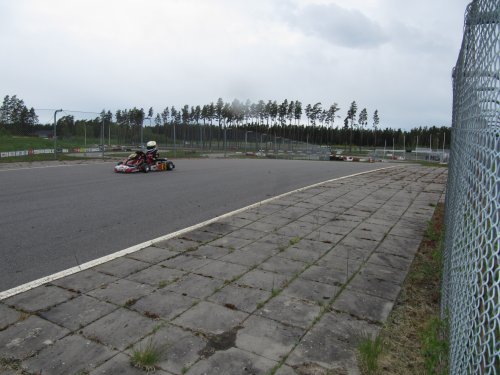 12 May 2016 Newspaper photshoot Team13
We had a meeting with the local newspaper at Torslanda (Local track Team13) in the sun, we had some fun, playing around, Clara got interviewed and the photographer took some nice pictures.
Will post the finished product later next week!
8 May 2016 SKCC2 Kristianstad
And the summer was here! Finally it was shorts weather from dusk to dawn!
This track is the absolute best in Sweden and the venue for World champion ship 2016 later this year! 
But unfortunately I had to work the end of the week when the others were there training so we got to the track on Saturday to watch and cheer the Mini and KZ2 classes and meet some friends. 
The first & second practice started pretty well with a 16th place (Of 35) which we thought was ok with worn tires and no practice; this is the largest championship in Sweden with the best drivers.
New tires for the qualifying and small adjustments, but not quicker, down to 20th place for the heats but 0, 9 seconds of pole, that's how close this is! 
For the two heats she was 21th and 19th, she drove really good and the kart looked better and better but it's hard to fight mid-pack, 17th position for the pre-final but she ended up 18th after a small contact in the last corner and that was the position for the final. 
Good start but its crowded down here in the middle.. Again great driving but it was hard to pass and the leading group checked out, she ended up 16th over the line but after some time penalties were given she was 15th which at least gave a small trophy! 
At the end of the day we were happy and we tried a lot of things and in the SKCC standings she's 9th total, great work and we're looking forward to what the future for us will give! Thanks for all the support to all of our friends worldwide!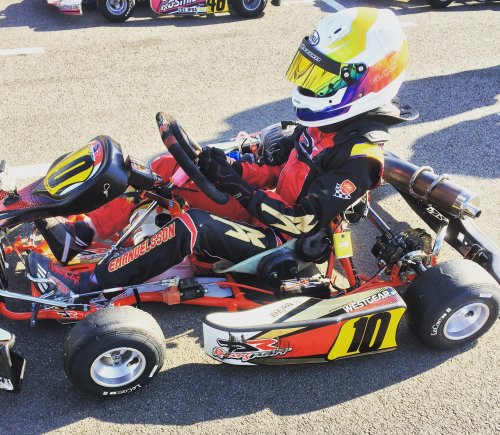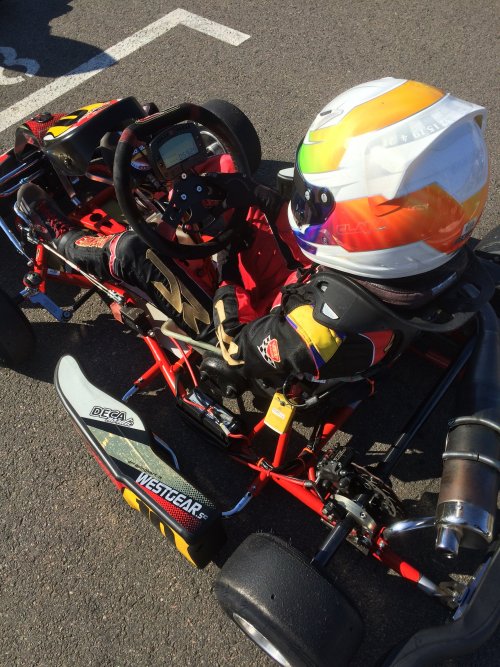 Long way to the top.. 
24 April 2016 SKCC1 Jönköping
Swedish spring weather... It was freezing! 
We started the day dry but it was below zero and snow came down! First practice we choose wrong gloves and Clara was too cold for more than 5-6 laps, we had to cancel. 
Second practice was better and she was 11th but almost 0,9 from the fastest guy (0,4 from 2nd) but we were working in the right direction, Paul from Deca Nordic was there to help me and gave me great input! 
For qualifying we still 0,9 of but down at 17th, but we know that some of that time is in power and that will soon be sorted! 
1st heat! Snow and a slippery track.. But it looked like it would dry, most of the racers choose rain tires but we gave the slicks a shoot, it was ok and she drove great, I think she was the fastest on slicks and she passed guys on every corner, she was 10th when she was taken out.. On top of that although she was hit so hard she lost the chain guard on the way into the tire barriers she got a 10 second penalty for the front bumper, what a crazy rule that is?!
2nd heat! More bad luck, this time in the start when she had to avoid another driver that spun off, from dead last to 22th was great driving and the kart was better again
Pre-final! Started 24th and drove great again, this time we got the setting way better and she ended up on a good 16th 
Final! Same story, the kart is better for every run and we are working in the right direction, she passed a lot of drivers and she was faster now on worn tires then she was on new! She ended up on a great 10th spot after a really hard weekend! 
We'll be stronger and stronger for every race from now!! 
16 April 2016 TTT - Tom Trana Trophy Team13 Göteborg
Another hard weekend.. First practice was damp and slippery and Clara was 9th out of 27, for the second pracice the kart didnt start until it was 1 minute left so she only did one lap. But at least we got that problem sorted.  
For the qualifying we did some changes but we didnt get the chassi to work like we like but still 10th and as we are down on power to the top guys we´re pretty happy with that, this track needs power and speed!
For the first heat she drove amazing and finished 6th! Second heat was harder and she was of track but drove back to 18th from last. 
For the final she started 11th and was fighting hard and was 8th until a small mistake took her down to a final 11th again, she drove great and never gave up but some bad luck again.
We'll keep fighting!
10 April 2016 Klippan Cup
Disaster weekend.. But great practice!
We started with well used tires for the first practice sessions and everything looked ok, new ones for the qualifying and she was almost two seconds faster and that put her in the 8th row for the heats.
In the first heat she was 15th and in the 2nd she was 15th again but the new rule for front fairing (Small touch and it drops down) gave her a 10 sec. penalty.. so 22nd on the paper and a second place start in the B-final.
B-final was pretty easy executed for a A-final spot but by then the tires were used and a start from the back of this group of riders would be impossible, she made a great race and the kart worked well but 26th wasn't what we hoped for, she's better than that!
We'll be back fighting next weekend at home turf, bring it on!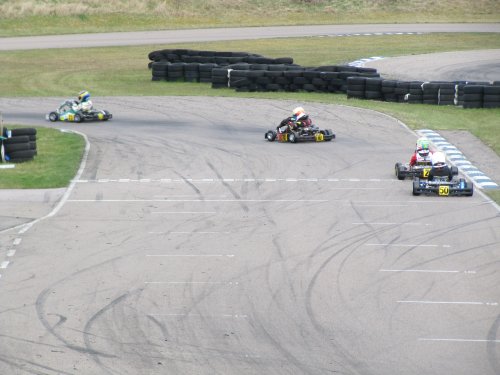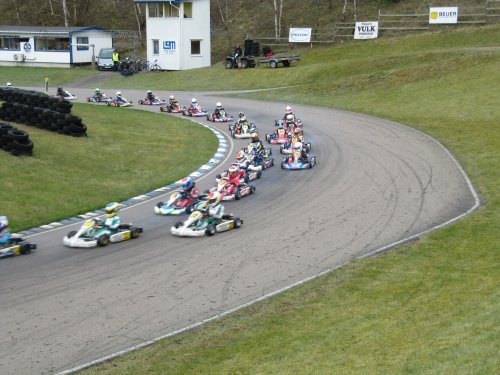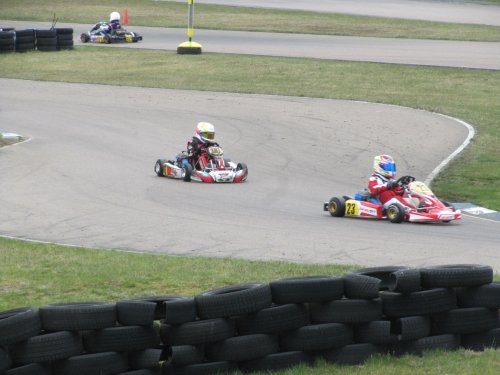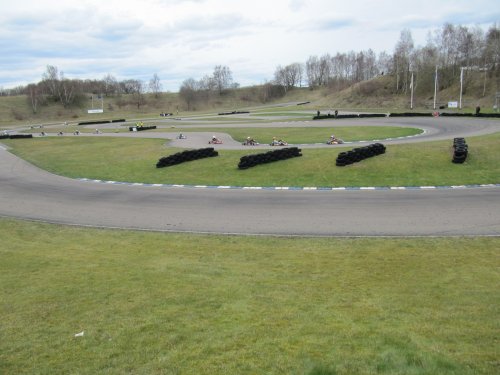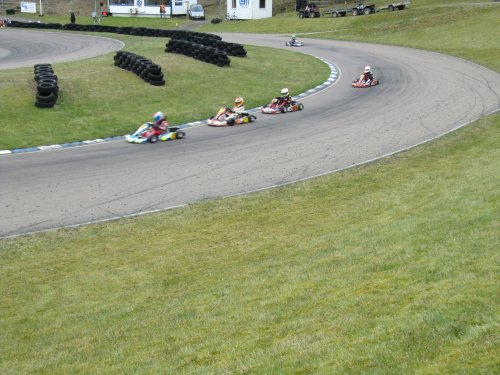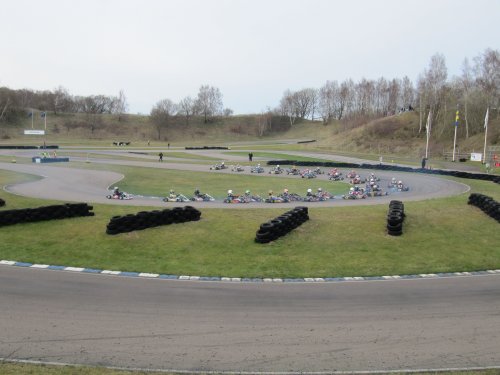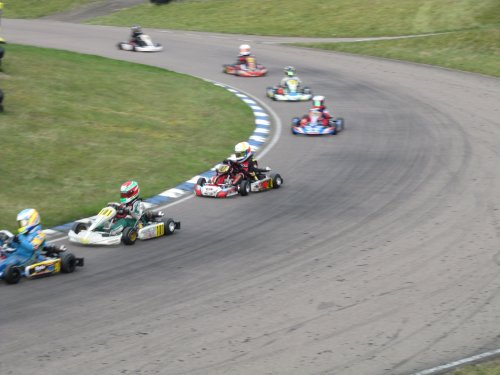 2 April 2016 Team 13
Getting ready for Klippan Cup, new Iame Parilla engine was way better than the old one from 2011.
After 90 solid laps of breaking in and training we looks to be ready for this weekend and the first race of the season!
Look at that 360Gfx painted helmet with Antman Custom TriX from Deca Nordic in the sun! Thanks guys!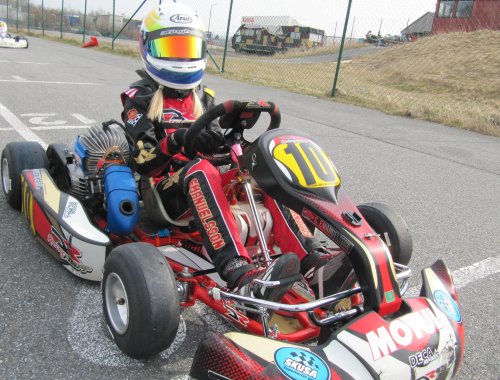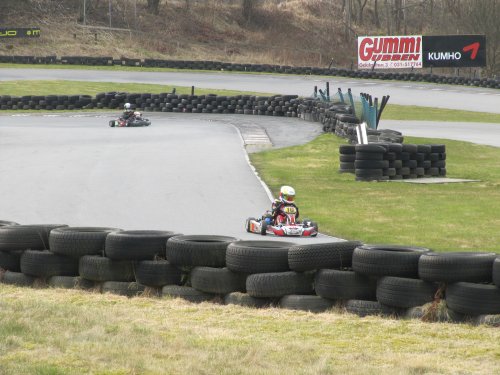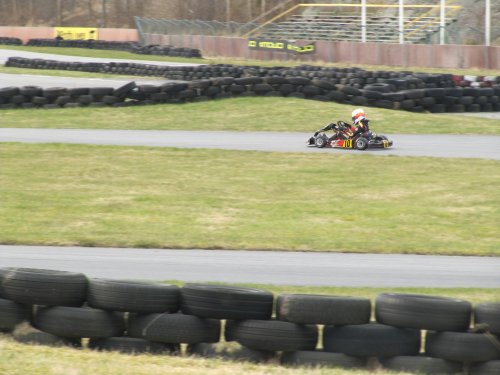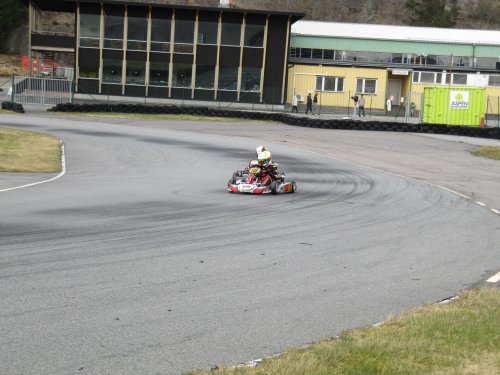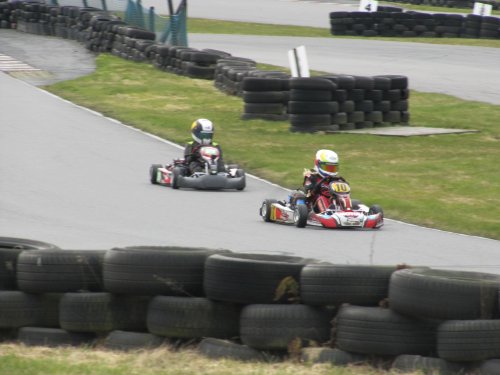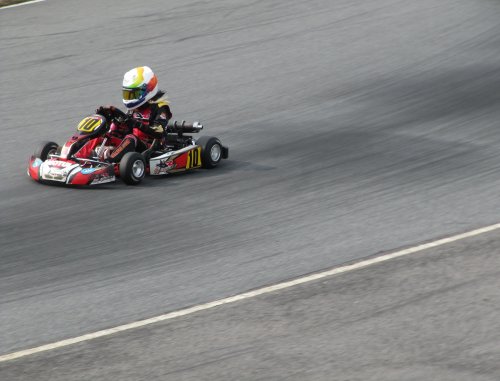 19 Mars 2016 Team13
Andra träningen för året och nu börjar rosten släppa, dessvärre har vi ingen snabb motor och däcken tog slut men träning är träning! Men mycket är pågång så vi kommer vara snabbara för varje gång!
Bättre väder i Mars kan man inte önska, det var underbart!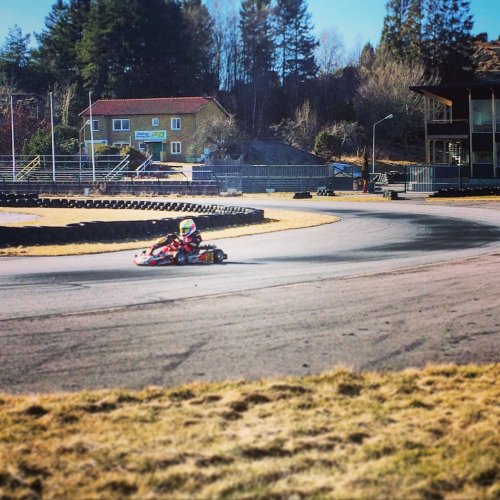 2016 Mars
Äntligen! 
I lördags var det bra väder och karten stod redo, några timmar träning kändes underbart! Allt fungerade bra och Clara njöt av att vara tillbaka i stolen, den motor vi har till träning än så länge är dessvärre riktigt långsam, men det får duga ett par veckor till. 
Nu är det inte långt kvar till Klippan Cup och säsongen 2016!!
2016 Februari
Fortfarande mörkt på Gokart fronten, men nu kommer snart våren med stormsteg! 
Dessvärre har Clara en inflamation i foten och går på kryckor, detta snart efter hon tog av årets gips från armen, men det är bättre att ta alla skador nu innan säsongen drar igång! 
2016 Januari
Med all denna snö på marken blir det inte mycket körning, men nu skall planeringarna för säsongen dra igång och fysiken slipas!
Klippan Cup är mindre än tre månader bort och har redan 41 anmälda i J60, hoppas denna trenden med stora startfält fortsätter under året!
2016 Happy new year everyone!!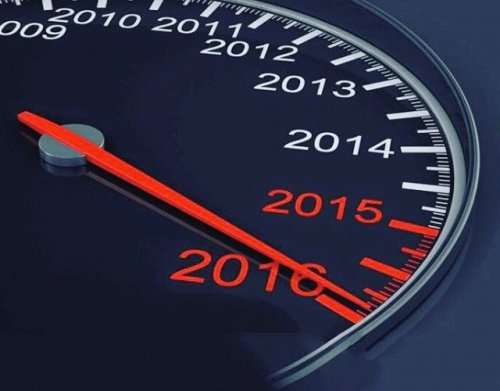 November 2015 SKUSA Supernationals XIX, Las Vegas, USA
We arrived to Las Vegas Sunday 15th to adapt to the time difference and to have some fun, on Tuesday it was time to meet the team and set up the kart which was easy with a team like this! Stewart Willis and his crew are super professional and helped us with everything the whole weekend, a big thank you! The Benik kart was really easy to set up and fast right out of the box for Clara, also the Benik team deserves big thanks, they were amazing!
The TaG Cadet (Clara's category) had all practice sessions on the afternoon so we had plenty of time before lunch to keep the kart in the best possible way, cleaning, polishing and tuning wise! At an event like this you want to look as good as possible and as you can see in the pictures Clara did! Photos 
Wednesday 18th
First day of practice! We had four practice rounds the first day and at the last one transponders where mandatory, Clara was 22nd out of 44 in her group about a second off, but that was better than we expected, we had great fun and tried different gearing and rims to find a good set-up and Clara had fun learning the track that is built on a carpark. New for everybody and to be honest one of the best tracks we ever tried, so parking lot the week before and race track that host the biggest kart event in the world this week and back to car park the week after again, how cool isn't that?!
Thursday 19th
Second day of practice, after the last practice on Wednesday they slip the riders in two groups, the 44 fastest in group 1 and the rest in group 2 and Clara made it to the fastest group and was 35th out of 44 in the next session but only 1 second from the fastest time set! For the next session the team tried a few new things and the first two laps was ok, but then the engine lost all power.. So when we start to look for what it was, we discovered that it was a bolt for the throttle that had come loose.. Small things can happen on brand new karts, but the good thing is that it was easy to fix! Time for practice 7 and a new set of tires to see where we're at! She was 26th! 0,7 sec from the top, that was amazing! Only .4 of a second to be in the top 10 of the fastest kart drivers in the world! 
After that we choose gears and put on the qualifying tires and got out for a very important qualifying practice, they let them out one by one so it shouldn't be a big mess but they were a bit slow so when Clara got out on track the first guys went by, it made her loose one important lap as she was going faster and faster but she was 28th out of 88! In a kart she never tried before! Way over our expectations! That means 7th row for the heats the next days! 
Friday 20th
A quick warm-up then time for the heat races! There was now four groups A, B, C and D (Clara's group) and first out was A vs. D, Clara did a good start but after only two laps she was put in the wall and came out last at 41th place but she did not give up that easy, every position counts and she knows it well, she drove herself up to 29th in only 12 laps. In her 2nd heat B vs. D she ended up 18th with less than a second to top 10, that's how close this race is! 
Saturday 21th
Last heat race C vs. D! This was the decider, she had to do really good to make directly to the finals and Main event "Super Sunday" after the crash in the first heat and she did! She was 12th over the line after hard racing but the points wasn't on our side so she had to go to the LCQ (Last chance qualifier) with only one spot.. But Pole position here and she only had to be top six, but there was 44 other drivers that had nothing to lose either so I told her to play it as safe as possible, she was a bit too safe the opening laps and dropped to fifth but when she got heat in her tires she did the race of her life, passing the other drivers like it was the easiest thing in the world, going for 2nd spot and chasing down the leader the last lap! She finished 2nd but that was enough to make it! 
Sunday 22nd
Super Sunday, Main event! SKUSA Supernationals 19 XIX
The 44 best drivers in the world on one track! This is the big dream coming true! 
I don't think many people in the paddock believed that when we showed up as under dogs! My only advice now was to have fun, we made it here and that was super huge! Clara looked at me and said - I can win it from here! That is the spirit of a true racer!!  
But the luck was over.. There was a huge pile of drivers that wanted to take the corner at the same time at the same spot. There was simply nowhere for Clara to go so she tried to avoid them but got hit in the side while doing so, she was last out and a half lap after already. But she tried her best and did great lap times but the others were simply too far ahead. 
But what a weekend! We'd never had this much fun before. Making new friends, had fun with old friends and to meet this team of wonderful, friendly people!
Thanks Stewart Willis for hooking us up with your friends and family! It's got to be the best team in the world! Thanks also Tony at Iame West USA and the best buddy of all Tom Kutcher for believing in Clara and being the best friend a man could ever ask for! 
A big thanks to Team Kart Benik for helping us out with a super-fast kart and all your help, you know who you are! 
What SKUSA does for karting is what the rest of the world should know and see, simply the best!!
And Danilo Rossi, the great 5 (FIVE!) times world champion, what a great man this is! Showing Clara with her super cool DR race suit for people and taking his time to talk for hours after the race, he is the man and I hope that we can keep this cooperation going for many years to come, we love the DR's! 
Together with DR racing kart we'll be racing in Italy for a few races in 2016 all thanks to Danilo! See you soon buddy!
1 December
TaG Cadet Super Sunday Main event 
SKUSA Supernationals XIX 2015
Clara är dessvärre med i mitten av startcrashen i början av filmen. 
25 November Göteborg
Nu är vi hemma från Las Vegas och först och främst har vi haft sjukt roligt! Men vilken succé Clara gjorde!
Bilder finns under "Photos" http://www.clara10.com/photos text och kanske någon kort video kommer i veckan!
Fortsätt följa oss!
Det kommer inte bli lika mycket racing i Sverige nästa år, men mer utomlands, Italien nästa?
Mer avslöjanden om framtiden de närmsta dagarna!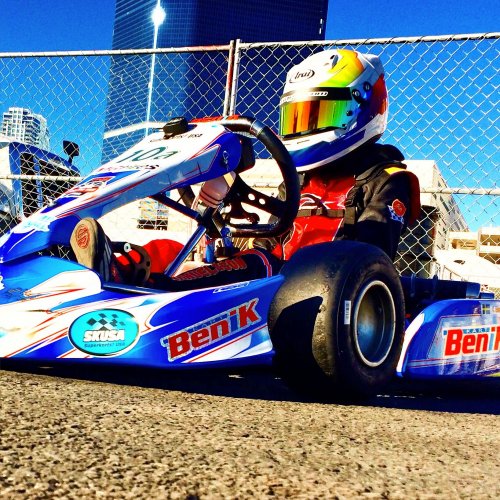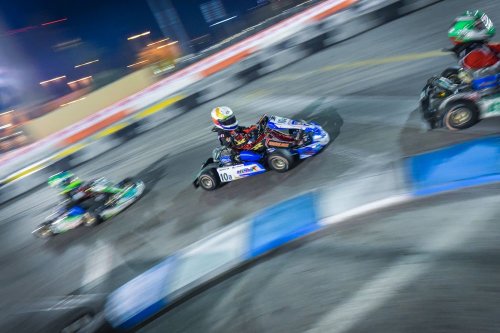 14 November Youtube
Glöm inte att följa Lasse på Youtube för mer grymma jobb!
https://www.youtube.com/channel/UC_PuyhC5p3eaMngYx3kNR7w